Welcome to your Monroe Public Library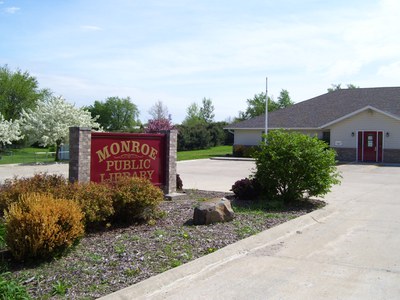 The Monroe Public Library serves the residents of the City of Monroe and all of the surrounding area.  There is no fee to borrow library materials.  The library is located at 416 South Buchanan Street in the southwest part of Monroe.
Library hours are:
Monday – 12pm – 5pm
Tuesday – 10am – 5pm
Wednesday – 12pm – 5pm
Thursday – 10am-6pm
Friday – 12pm – 5pm
Saturday – 9am -12pm
Sunday – closed
The library collection consists of adult fiction and non-fiction, large-print books, books-on-CD, young-adult fiction and non-fiction, children's fiction and non-fiction, beginning readers, easy readers, and picture books.  There are also movies on DVD, and children's book/CD sets available.  All of the materials, except for the videos, may be borrowed for 2(two) weeks.  Videos may be borrowed for 2(two) days.
The library also has a special collection of materials devoted to local history and genealogy, and a selection of current, popular magazines.
If we don't have the exact title or author you are looking for, we can borrow almost any book from another library and make it available to you.  If you don't find the exact book you want, please ask us to get it for you.  There is a $2.00 fee per item to help defray postage costs.
The library also has a fee-per-page photocopier and a fee-per-page FAX machine available for public use.  A laminating service is also available for a fee.
During the summer we offer a reading program for children.  Call the library for more information.  The library sponsors other special programs and events during the year.  Notices of such activities will appear in the Monroe Legacy newspaper and will be posted around town, and on the library web site.
Visit the library web site at www.monroe.lib.ia.us.
There is a Friend of the Library group that supports and promotes the library.  We invite you to join our Friends.
If you have questions or would like more information about the library, call us at               641-259-3065 or stop in.
Don't let our size fool you, we have a lot of information and an excellent selection of current popular fiction and bestsellers.  And with our ability to borrow books from all over Iowa we can get almost any book you want to read.
You are invited to come into your Monroe Public Library and see what your library can do for you.   Welcome to Monroe!